Dear,



Dietary supplement for memory is vital to enhance brain functionality. It provides a variety of nutrients that your diet might be missing. Regular intake helps you be at your best, be more productive, and stay focused.

One such supplement is the Memory 24/7 capsule. It is a capsule that everyone needs daily to supply nutrition to the brain and protect memory. It contains two pills in one capsule; you have two different products in one capsule. The outer capsule contains fish oil. The inner layer contains other ingredients.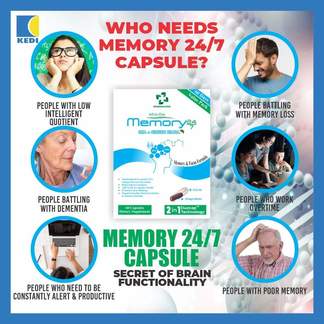 Memory and Focus Formula
* Standardized to contain 24% Gingko Flavone Glycosides
* Helps improve memory
* Aids brain and cognitive health
* Promote clear thinking
* Supports healthy blood circulation and immune function.
How Duocap Technology Works?
* EPA/DHA Release (liquid outer capsule)
* Fish Oil containing EPA/DHA is released for first phase absorption into the stomach.
* Ginkgo Biloba Release (Encapsulated inner capsule)
* Ginkgo Biloba extracts in the internal capsule are released for second phase absorption.
The dietary supplement for Memory 24/7 capsule is beneficial for the following people:
▪️ Aged people
▪️People with a low intelligent quotient
▪️People battling with dementia
▪️People battling with memory loss
▪️People who work overtime
▪️People who experience much mental stress
▪️People who need to be constantly alert and productive
It's important to note that a good lifestyle and dietary supplement for memory go together.
In addition to taking a dietary supplement for memory enhancement, you should not compromise a healthy lifestyle. Below are some lifestyles you should imbibe to make your brain perform well.
Eat well: Your body requires food with specific nutrients and vitamins to fuel your brain. You should avoid processed and junks foods. Strive to eat unprocessed foods from the soil because they are nutritious to the body. It's also cheaper compared to processed and junks foods.
Some foods, such as fruits and vegetables, and drinking enough alkaline water help keep brain cells working well and help you learn, think, and work.
Exercise regularly: Regular exercise gets blood pumping throughout your body and your brain and enhances the circulation of nutrients. Exercise ideas good for the brain include walking, and using the blood circulation machine makes blood flow well to the brain.
Get enough sleep: Sleep is vital to the brain and the rest of the body. It helps clear out toxins from the brain cells, which occurs less efficiently when the brain is awake. It helps your brain consolidates memories you created throughout the day. It also enhances your brain's ability to learn new information when you wake up. When people don't get enough sleep, their health risks rise.
Do brain exercises: Regular brain exercises such as reading, playing chess, draft, and puzzle games flex your mental muscles. It also helps overcome anxiety, grows healthy new brain cells, and slows down brain aging.
Socializing: Interacting with people helps sharpen your memory and cognitive skills. It stretches your brain's ability to organize ideas and relay them succinctly. It also overcomes loneliness and increases your sense of happiness and well-being, and may even help you live longer.
Being socially connected leads to increased lifespans and boosts immune systems. Being social even contributes to brain health and a lower rate of dementia and Alzheimer's for older people.
Click the link to read on the website dietary-supplement-for-memory.html
---
Free Zoom Video On Blogging and Content Marketing Seminar for Wealth Creation
If you are interested, WhatsApp me at 2348121325411 with your names and email address. Text: "Email me the Zoom Free Internet Presentation."
I am certified by Newskills Academy, located in the United Kingdom as a Life Coach. I also possessed certification by SiteSell Education based in Canada to teach a brand new continuing education course called "Building A Successful Business Using The Internet."
---
Details of quantum resonance magnetic analyzer training Date for Seminar: 13th to 15th April 2022 (Wednesday to Friday)
Time: 9 am to 2 pm
Fee: N25,000 (20% discount for payment made at least 3 days in advance before the date of the seminar = N20,000)
Fee for Virtual Class (Zoom) = N10,000 (payment must be made 3 days in advance before the date of the seminar)
For information Call Olabode Oruku phone number 2348033205456 or WhatsApp 2348121325411.
P.S. Fee covers refreshment, soft copy materials and certificates
---
Olabode Oruku is the chief executive officer of Oruku Alternative Healthcare. He is a nutritional and natural healthcare consultant, a negative belief clearing practitioner and a health and wealth coach.
He possesses a license from Lagos State Traditional Herbal Medicine Board and also trained in Chinese traditional herbal medicines. He integrates both pieces of knowledge for the health being of Nigerians.
He possessed certification from Newskills Academy located in the United Kingdom as a Life Coach.
He has certification by SiteSell Education based in Canada to teach a brand new continuing education course called "Building A Successful Business Using The Internet."
You can reach him on mobile phone 2348033205456 or Whatsapp 2348121325411.
---
For more success articles, click here
---