Dear,



Ecommerce business strategy is the key to your business success. According to statista.com, about 63.1% of the global population is connected to the internet, which is about 5 billion people. It is suitable for your online business.

A few people thought selling your goods and services online will not payoff owing to several scams that exist on the internet and other logistics. I will prove you wrong because the best dual presence of an interactive e-commerce portal and a brick-and-mortar store enhances your customer relationship.

What Is an Ecommerce Business Strategy? In today's internet-connected world, e-commerce has enabled companies to reach customers cost-effectively and personally. It allows companies to get customers with their products and services in just about any location they choose. What's more, by using the internet, companies can reach millions of buyers at the click of a button.

A successful eCommerce strategy goes beyond having a Facebook, Twitter, Whatsapp, or Vblog. It is more than that because it is a business model that generates millions and trillions of local and foreign earnings in dollars and other currencies worldwide.

I know you'll like getting constant alerts from the bank, which comes from the proceeds of your virtual shop and cart online. Of course, that is what Jeff Bezos is doing on Amazon in the United States. I know you'll like to be the next big thing in business.

Every successful venture starts small and grows big. But in your scenario, you won't have to go through the hassles and loopholes like they did because we've made a successful e-commerce business strategy for you. See it here: https://www.nigeriawebsuccess.com/website-ideas-to-make-money.html.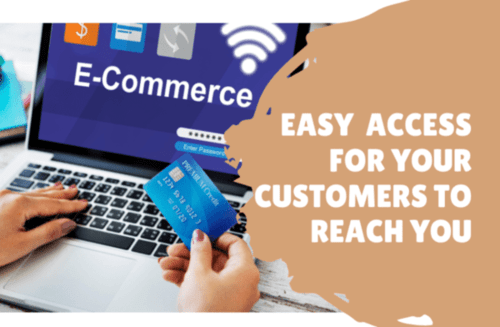 What Are The Benefits Of An Ecommerce Business Strategy, And Why Do 80% Of Businesses Fail Online?

The internet has changed the way we live and do business. Today, almost everyone has a smartphone or tablet, and many people use them to find information and share ideas. There are two ways to reach consumers today: broadcasting via traditional media such as television or newspapers and marketing via websites.

These methods are powerful ways to build your brand. Still, conventional media is so expensive and advertising on websites like Google, Facebook, Twitter, etc., is pretty costly too. It doesn't guarantee successful e-commerce strategies. I will tell you why it might not work for you shortly.

Ecommerce is a part of the marketing mix, but it doesn't have to be all you do. Other tactics can help you boost your sales, gain more customers, and make more money.

eCommerce is the process of buying and selling goods or services online. It is a form of electronic commerce where products are typically delivered electronically to the customer.

The eCommerce business strategy is to build a sustainable competitive advantage by focusing on customer experience.

The internet moulds the way we live and do business. The availability of e-commerce has been a great boon to the business world. The benefits of e-commerce for businesses are that it allows companies to reach customers cost-effectively and personally. When done correctly, e-commerce can be essential to a company's marketing strategy.

Ecommerce Business Strategy Planning Process When building an online business, a common mistake is not understanding the difference between eCommerce and online marketing. Ecommerce is simply about selling products online, whereas online marketing is about engaging with your potential customers to boost your sales.

Do you guess what the 20% of online businesses do that you can learn?
The 20% of businesses succeeding online are doing something different from the rest of the 80% that are failing. They are using specific tactics that the majority are not, leveraging technology to their advantage. To be profitable in today's hyper-competitive environment, you must adapt your strategy and ensure you use these techniques. It is where we come in for you to solve all your worries.
Click the link to continue reading on the website eCommerce-business-strategy.html
---
Help Teslim Majoyeogbe Transplant a New Kidney
I will appreciate your financial support for Mr Teslim Majoyeogbe for the Need to pay the bills for the surgery for a kidney transplant and post-surgical treatment. He is a brother to my dear friend. No amount is small towards making him healed. Click here for more information. Kidney2 Transplant For Teslim Majoyeogbe
---
---
Olabode Oruku is the chief executive officer of Oruku Alternative Healthcare. He is a nutritional and natural healthcare consultant, a negative belief clearing practitioner and a health and wealth coach.
He possesses a license from Lagos State Traditional Herbal Medicine Board and also trained in Chinese traditional herbal medicines. He integrates both pieces of knowledge for the health being of Nigerians.
He possessed certification from Newskills Academy located in the United Kingdom as a Life Coach.
He has certification by SiteSell Education based in Canada to teach a brand new continuing education course called "Building A Successful Business Using The Internet."
You can reach him on mobile phone 2348033205456 or Whatsapp 2348121325411.
---
For more success articles, click here
---