Dear,



Business is sweet when you know how to make money networking. In times past, doing business was more of a very straightforward thing. You get a product or service; look for those who demand it and trade it off in exchange for money or engage in barter by exchanging it for another product you need.

The way of doing business has evolved rapidly over the years. You do not need to see the person you are selling to or even collect the cash in hand in this internet age. The business transaction is over in no time. Another modern concept that has facilitated our business is network marketing. It is one of the effective strategies to make money networking.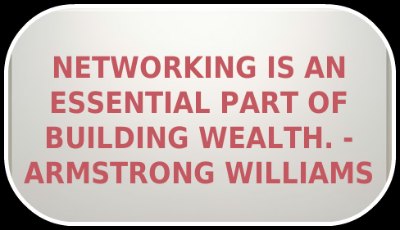 What is Network Marketing?
Network marketing or Multilevel marketing is a highly efficient method of taking products and services from a company to its final consumers using independent marketers. Both small businesses are now using MLM and large conglomerates to quickly make sales and get consumer feedback.

As it brings in more money for the companies, it is also changing the fortune of many individuals for the better. This article's primary focus is on how you can take advantage of this.

In Nigeria, MLM has existed for about three decades now and has made many people millionaires. But recently, the proliferation of businesses engaged in network marketing and some evil entities' activities have made many lose their investments and caused others to look at the industry with some apprehensiveness.

The truth remains that MLM is a highly lucrative venture that still produces wealthy entrepreneurs. You can also make money from it. Like every other business, specific rules have to be adhered to minimize risk and significantly improve the chances of success.

Tips for starting and make money networking
1. Joining a company: You can make money networking as an independent marketer. You must choose the right company for a partner. A few guidelines to making the right decision include selecting a company that has been in business for at least ten years. It will mean that they have been consistent in doing business. You can more quickly check up on their track records and trustworthiness.

2. Choosing a product: After selecting the company to make money networking, the next important step is choosing the products to market. Usually, it is advisable to be well known for a particular range of products for a specific business niche, such as healthcare, food, beverages, or exercise. It will help you plan a marketing strategy focused on a targeted segment of consumers.

3. Compensation plan: The common mistake that most MLM newbies make is to begin without understanding how the compensation plan works. You must know this, as this is how you make money in MLM.

4. Marketing channel: To make money in MLM, you must set up a channel to market your products. You can choose to go online or offline or have a balanced combination. But as you know, every serious business these days must have an online presence, so you must incorporate this to maximize your business reach.

5. Free mentorship: Mentorship is vital to making money networking. A mentor will help guide you on how best to begin the business, the dos and don'ts, and the trusted way to implement your offline and online marketing plans. And with MLM, you can get a mentor for free, so make sure you take advantage of this.
Click the link to read on the website make-money-networking.html
---
Help Teslim Majoyeogbe Transplant a New Kidney
I will appreciate your financial support for Mr Teslim Majoyeogbe for the Need to pay the bills for the surgery for a kidney transplant and post-surgical treatment. He is a brother to my dear friend. No amount is small towards making him healed. Click here for more information. Kidney2 Transplant For Teslim Majoyeogbe
---
---
Olabode Oruku is the chief executive officer of Oruku Alternative Healthcare. He is a nutritional and natural healthcare consultant, a negative belief clearing practitioner and a health and wealth coach.
He possesses a license from Lagos State Traditional Herbal Medicine Board and also trained in Chinese traditional herbal medicines. He integrates both pieces of knowledge for the health being of Nigerians.
He possessed certification from Newskills Academy located in the United Kingdom as a Life Coach.
He has certification by SiteSell Education based in Canada to teach a brand new continuing education course called "Building A Successful Business Using The Internet."
You can reach him on mobile phone 2348033205456 or Whatsapp 2348121325411.
---
For more success articles, click here
---