Hello,



If you are wondering how to get the best medical test, I will recommend the Quantum Resonance Magnetic Analyzer. The machine displays adequate information on your health conditions so you can take steps to prevent various diseases, stay healthy and be happy.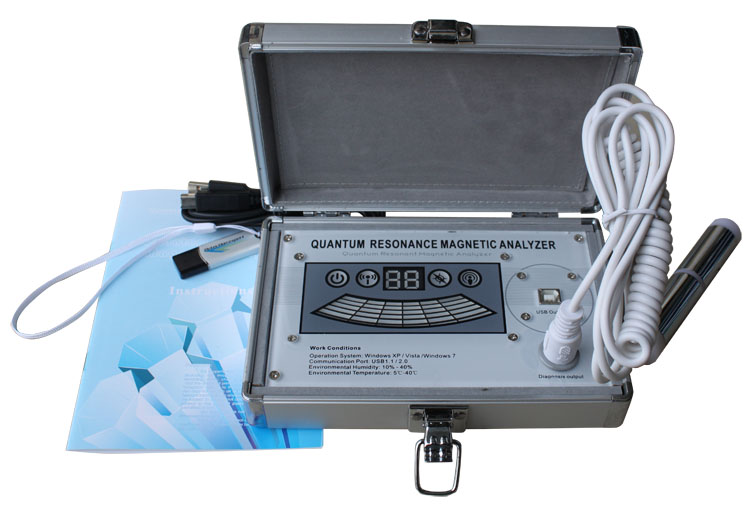 The Quantum Resonance Magnetic Analyzer has the following advantages:

· Quick Access to Your Health Status: The machine can be use for fast, full health check up of your body. For instance by holding the test rod in your palm for few minutes, your health status will be displayed.

· Comprehensive Information on Your Health Status: The analyzer can make wide range examination to your body.

· Prevention of Diseases: The report provides information on deficiency of certain vitamins and minerals in your body system. You also get information on the state of organs such as kidneys. With the information you provide the missing nutrition in your body and stay healthy.

· Rapid Result of Treatment: The medical test report can be used to monitor the progress of treatment and advice patients accordingly. When the cause of ailment is known treatment become faster, since you take product(s) based on your ailment.

· Health Check Up Has No Side Effect: The health check up does not have negative radiation effect, so it's not harmful to the body system.

· Cost of Quantum Medical Test Is Affordable: The cost of health check up is reasonable and can be afforded by most people.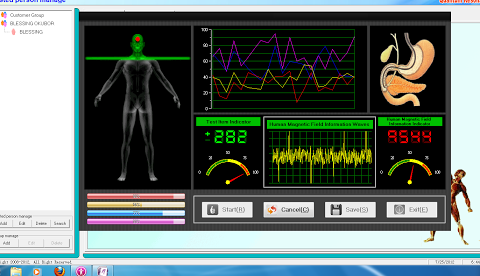 The Quantum Resonance Magnetic Analyzer Will Display Thirty Nine Health Reports In The Following Areas:

01- Cardiovascular and cerebrovascular 02- Gastrointestinal function 03- Liver function 04- Gallbladder function 05- Pancreatic function 06- Kidney function 07- Lung function 08- Brain nerve 09- Bone disease 10- Bone mineral density 11- Rheumatoid bone disease 12- Blood sugar 13- Basic physical quality 14- Human toxin 15- Trace element 16- Prostate 17- Male sexual function 18- Blood Lipids 19- Skin 20- Endocrine System 21- Immune System 22- Breast 23- Vitamin. 24- Amino Acid 25- Bone Growth Index 26- Eye 27- Heavy Metal 28- Allergy 29- Coenzyme 30- Element of human 31- Pulse of heart and brain 32- Channels and collaterals 33- Sperm and semen 34- Menstrual cycle 35- Gynecology 36- Obesity 37- Collagen 38- Comprehensive Report Card 39 - Large Intestine

One of the clue that you need medical test is when you are usually tired, pains in the body, persistence headache, sleeplessness, no desire for food, when you're sad, under stress, apprehension, dizzy, erectile dysfunction, infection, etc.



Click here to visit the website or call/text: 2348033205456.

Yours in success,

Olabode Oruku
---
Nutritious Product for Calcium and Vitamin C
V-Ca is a nutritious tablet to supply needed calcium and vitamin c to your body. It's a perfect drink to start your day and be lively. Below are its health benefits:
1. V-Ca is important in many other critical functions such as the absorption of iron, stimulation of immune system and as an antioxidant to strengthen the immune system.
2. The product facilitates calcium absorption, making it more bio-available to the cells.
3. V-Ca neutralizes potentially harmful reactions in the watery parts of the body such as blood and fluid, both inside and surrounding cells.
4. The tablet may be useful as an immune stimulator and modulator in some circumstances. It promotes resistance to infection through the immunologic activity of leukocytes, the production of interferon, and maintaining mucous membranes.
5. V-Ca increased intake is required to maintain normal plasma levels under acute emotional or environmental stress such as trauma, fever, infection, or elevated environmental temperatures.
6. It helps you replace the Vitamin C lost through colds and flu.
Recommended Daily Intake:
Dosage: one tablet in a glass of water (200ml – 300ml), either warm or ordinary water. Do not exceed the recommended intake. Click Here to Visit Website
---
Free Seminar: How To Become A Distributor To An International Food Supplement Company
• Earn over N100,000 monthly
• A brand new car
• A new house
• Free continuous training and mentoring

For more information call/text: 2348033205456
---