Dear,



If you are searching for small business tips that will help you run your business successfully, the information I am about sharing with you will be useful.

As a small business owner, the best strategy to make more sales and reduce competition is to focus your business on a small targeted people that are not satisfied with the present product in the market place.

Your success is guaranteed if you acquire the right knowledge to provide excellent product that will meet their expectations and fill the gap you notice in the market place.

There are several case studies of entrepreneurs in Nigeria that have applied this strategy and are making millions of naira in their businesses.
Below are illustrations to back my claims:
Here is the case study of Sunny Obazu-Ojeagbase who works several years as a sport journalist before he founded complete sport newspaper.

The newspaper is the leading sport newspaper in the country.

Another case study is John Momoh, who was one of the prominent broadcasters' in Nigeria Television Authority (NTA) for many years before he established Channels Television Station.

Today, the station is regarded one of the television providing worthy information and credible news in Nigeria.

Larry Izamoje who founded Brilla FM radio station is another story of an entrepreneur that focus on a specific market in an industry and doing well.

He's a football lover and has acquired necessary knowledge to run football business on radio. His radio station – Brilla FM is the first sport radio station in the country.

My point here is if these entrepreneurs can succeed in their businesses based on the experience they have acquired, you can do it too.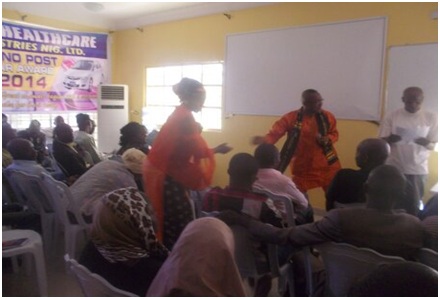 Small business tips to reflect on and take action:
The first step is to reflect on these questions: Which works have you done in your previous company or doing presently that you can carve out a small group of potential clients whose expectation is not meant in the market now?

Do you have passion to do the business? This is because it's the passion or love for it that will sustain you even if profit did not come at the beginning.

In my small business tips to entrepreneurs, I usually recommend that people should focus on target audience that can pay more for their product or service.

That way, they can increase prices and make huge profit with less stress.

However, it is important to market quality product or service that will meet clients' anticipation, the cost is not an essential consideration.

For instance, those years when I was running a boutique, for the shoes, my target market are the upper class who loves quality leather shoes such as crocodile skins that are uncommon.

Their perception is that the price determines its value. The higher the price, the valuable it is.

There was an experience that I had with a potential client. I tried to sell a shoe I bought N10,000 to him for N15,000. He felt insulted because he perceived N15,000 shoes to be low class and meant for retirees.

He arrogantly told me that the one he wore costs N60,000. My friend, you know what happened; I lost the sale and possibility of selling my product to him in future.

In conclusion, the right application of the aforementioned small business tips will boost your business and separate you from your competitors.
---
Click this Link to Read Content Online small-business-tips.html
---
Olabode Oruku is the chief executive officer of Oruku Alternative Healthcare. He is a nutritional and natural healthcare consultant, a negative belief clearing practitioner and a health and wealth coach.
He possesses a license from Lagos State Traditional Herbal Medicine Board and also trained in Chinese traditional herbal medicines. He integrates both pieces of knowledge for the health being of Nigerians.
He possessed certification from Newskills Academy located in the United Kingdom as a Life Coach.
He has certification by SiteSell Education based in Canada to teach a brand new continuing education course called "Building A Successful Business Using The Internet."
You can reach him on mobile phone 08033205456 or Whatsapp 08121325411.
---
For more success articles, click here
---